Uncovering Norway's regional disparities with respect to natural riches
Keywords:
natural resources, regional development, panel data analysis
Abstract
This study aims at unveiling regional development differences in Norway with respect to various natural resource-based activities that take place in the NUTS 3 regions. Norway's natural riches range from agricultural and forest resources to fisheries, mines, petroleum and gas. Considering the possible spatial links for various regional characteristics of the Norwegian economy, this study does not only reveal the wide-ranging distribution of resource-based activities, but also sheds light on divergent income and population patterns in the Norwegian regions. Besides, these patterns are investigated through a number of models that test the impact of employment, investment and value added in natural resource sectors on regional differences. The main findings suggest that mining and quarrying as well as oil and gas extraction activities generate significant advantages for regional income generation whereas each resource type affects the distribution of population in a different way.
References
Acar, S. and Zola, J. (2012) Natural Resource Abundance - Regional Blessing or Curse?. In: U. Izmen (Ed) Symposium Book of The First Symposium on Regional Dynamics in Development: The Strategies and Practices from Global to Local, TURKONFED, Istanbul
Auty, R. (1993) Sustaining Development in Mineral Economies: The Resource Curse Thesis. Oxford University Press, New York
Auty, R. (2001) Resource Abundance and Economic Development, World Institute for Development Economics Research, Oxford University Press
Auty R. (2007) Patterns of Rent-Extraction and Deployment in Developing Countries: Implications for Governance, Economic Policy and Performance. In: G. Mavrotas and A. Shorrocks (Eds), Advancing Development: Core Themes in Global Economics, Palgrave: London
Borge, L-E., Parmer, P. and Torvik, R. (2012) Local Natural Resource Curse?, presented at European Economic Association & Econometric Society 2012 Parallel Meetings, 27 - 31 August 2012, Málaga, Spain
Brunnschweiler, C.N. (2008) Cursing the blessings? Natural resource abundance, institutions, and economic growth. World Development 36(3): 399–419
Carson, D. (2009) Is the Northern Territory in a 'Staples Trap'? Charles Darwin University, School for Social and Policy Research, Population Studies Research Brief, Issue Number: 2009038
Fagerberg, J., Mowery, D.C., Verspagen, B. (2009) Introduction: innovation in Norway. In: Fagerberg, J., Mowery, D., Verspagen, B. (Eds.), Innovation, Path Dependency, and Policy. Oxford University Press, Oxford
Freeman, D. G. (2009) The 'Resource Curse' and regional US development, Applied Economics Letters, 16 (5): 527 — 530
Goldberg, E., Wibbels, E. and Myukiyehe, E. (2008) Lessons from Strange Cases: Democracy, Development, and the Resource Curse in the U.S. States, Comparative Political Studies 41: 477-514
Innis, H. A. (1930) The Fur Trade in Canada. Toronto: University of Toronto Press
Innis, H. A. (1956) The teaching of economic history in Canada. In: M. Q. Innis (ed.), Essays in Canadian Economic History, Toronto: University of Toronto Press
Krugman, P. R. (1991) Increasing returns and economic geography, Journal of Political Economy, 99: 483-499
Mehlum, H., Moene, K. and Torvik, R. (2012) Mineral Rents and Social Development in Norway. In: K. Hujo (ed.), Mineral Rents and the Financing of Social Policy: Opportunities and Challenges, United Kingdom: Palgrave.
OECD. (2011) Economic Policy Reforms 2011: Going for Growth, OECD Publishing.
http://dx.doi.org/10.1787/growth-2011-en
Rattsø, J. and Stokke, H. (2011) Migration and dynamic agglomeration economies: Regional income growth in Norway, presented at the 6th Meeting of the Urban Economics Association, at the 58th Annual North American Meetings of the Regional Science Association International (RSAI) November 9-12, 2011, Miami, FL.
Roll, M. (2011) Resource Governance, Development and Democracy in the Gulf of Guinea, In: Roll, M. and Sperling, S. (Eds), Fuelling the World – Failing the Region? Oil Governance and Development in Africa's Gulf of Guinea, 2011, Friedrich-Ebert-Stiftung
Sachs, J. D., and Warner, A.M. (1997) Natural resource abundance and economic growth. Working Paper 5398. Cambridge, MA: National Bureau of Economic Research and Harvard University.
Sachs, J. D., and Warner, A.M. (1999) Natural Resource Intensity and Economic Growth. In: Mayer Jörg, Chambers Brian, and Ayisha Farooq (Eds), Development Policies in Natural Resource Economics, Ch.2. Cheltenham, UK and Northampton Massachusetts: Edward Elgar.
Sæther, B., Isaksen, A., and Karlsen, A. (2011) Innovation by co-evolution in natural resource industries: The Norwegian experience. Geoforum, 42: 373–381
Watkins, M. H. (1963) A Staple Theory of Economic Growth, The Canadian Journal of Economics and Political Science, 29 (2): 141-158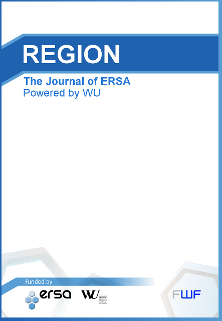 Additional Files
How to Cite
Acar, S. and Karahasan, B. C. (2015) "Uncovering Norway's regional disparities with respect to natural riches", REGION, 2(1), pp. 1–31. doi: 10.18335/region.v2i1.34.
License
REGION is an open journal, and uses the standard Creative Commons license: Copyright We want authors to retain the maximum control over their work consistent with the first goal. For this reason, authors who publish in REGION will release their articles under the Creative Commons Attribution license. This license allows anyone to copy and distribute the article provided that appropriate attribution is given to REGION and the authors. For details of the rights authors grant users of their work, see the "human-readable summary" of the license, with a link to the full license. (Note that "you" refers to a user, not an author, in the summary.) Upon submission, the authors agree that the following three items are true: 1) The manuscript named above: a) represents valid work and neither it nor any other that I have written with substantially similar content has been published before in any form except as a preprint, b) is not concurrently submitted to another publication, and c) does not infringe anyone's copyright. The Author(s) holds ERSA, WU, REGION, and the Editors of REGION harmless against all copyright claims. d) I have, or a coauthor has, had sufficient access to the data to verify the manuscript's scientific integrity. 2) If asked, I will provide or fully cooperate in providing the data on which the manuscript is based so the editors or their assignees can examine it (where possible) 3) For papers with more than one author, I as the submitter have the permission of the coauthors to submit this work, and all authors agree that the corresponding author will be the main correspondent with the editorial office, and review the edited manuscript and proof. If there is only one author, I will be the corresponding author and agree to handle these responsibilities.